general hospital spoilers
General Hospital Happenings© 1999-2014
Dates and Events may vary slightly from posted information.

Continued from Page 1 of Spoilers
Scroll all the way down...the Newest Spoilers are located thru-out this page
in WHITE.
Help boost GH's ratings even more. Watch live, and watch your recorded TiVo's/DVR's the same day or w/in 24 hours,
AND
at the
ABC.com
site
and
SOAPnet! Remember: DO NOT fast-forward through commercials when watching your recordings...it counts!
UPDATE:
Not a Nielsen viewer? Here is another way to be counted!
Watch at
http://abc.com/iPhone/iPad
then click on the sponsors' websites to thank them!
~~~~~~~~~
NEW POLL!
You may vote once a day.

Chad Duell
in a mock fit of jealousy over
Maurice Benard
with

Kristen Alderson,
and a...flamingo.
Ryan Paevey
aka Nathan West, snaps a selfie.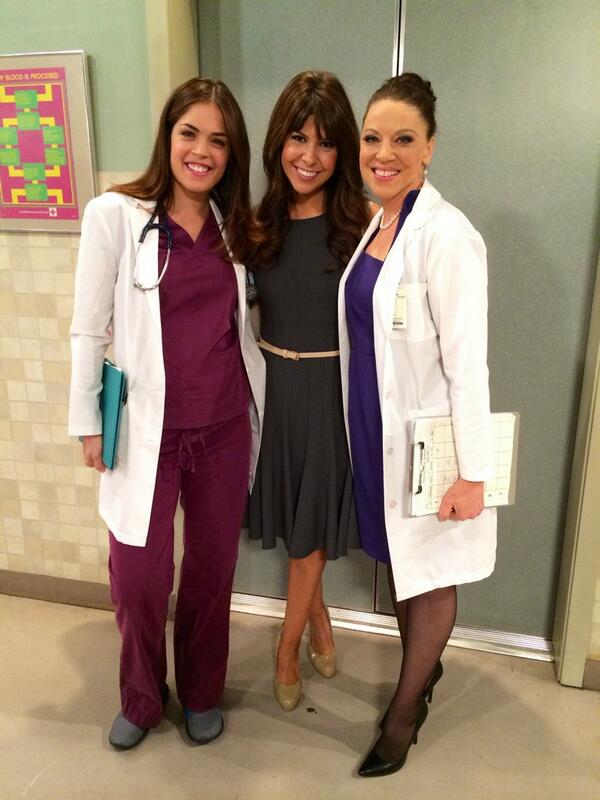 Jessica Radloff
is making a cameo appearance on GH as Mrs. Nelson.
Radloff
is best known as Glamour's West Coast Entertainment Writer and TV Host. She is a regular on
The Talk
and ABC's
Dancing with the Stars.
Laura Wright
shows off her new puppy.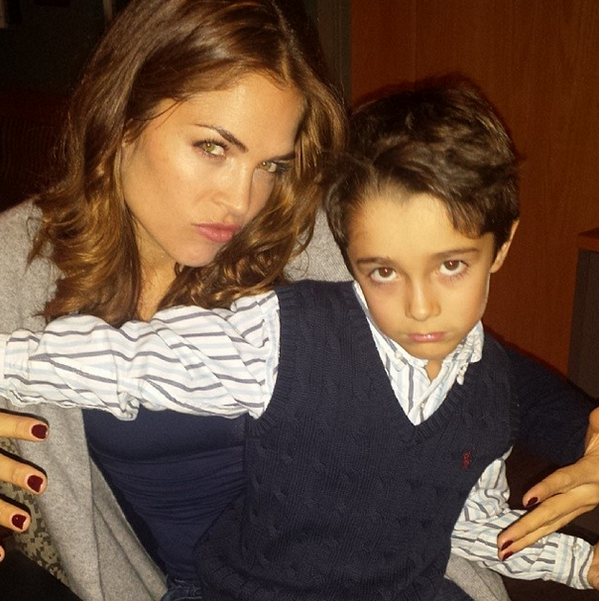 Kelly Thiebaud
with
Nicolas J. Bechtel
(Spencer Cassadine)
Frank Carlivati
tweeted:
Move over, Brad. The Britch has a new henchman.


Coming...
Someone enters into Lulu and Dante's relationship when they're in a vulnerable place.

Someone connected to Alexis seems awfully familiar to Nikolas.
Kevin doesn't want Lucy to know about Christina's numerous troubles.
Christina might not want to listen to Lucy but she will listen to another Port Charles lady who gets through to her.
Christina accuses Lucy of having an affair with Scott Baldwin; Christina tells Kevin that she saw Lucy and Scott "together".
The lack of trust between Ava and Julian is evident.
After more mysterious phone calls, Lucy demands that Kevin tell her where he is going all the time and who is taking up so much of his time. This is when Kevin confesses that he has been keeping in touch with their daughter, Christina. Lucy is relieved but wonders why Kevin didn't tell her in the first place. Before Kevin has a chance to explain, Christina arrives in Port Charles.
Christina and Lucy's initial encounter does not go well. After Kevin tries to reason with Christina, she agrees to apologize but just so happens to misinterpret a close moment between Lucy and Scott. She immediately becomes highly suspicious. Later on, Christina witnesses Scott involved in some dirty dealings and decides to use it against him.

Things for ELQ are not going as well as Tracy would hope.



Also...

"Penny" believes she will be recognized.
A PC resident is very familiar to a few people.
Scotty plays dirty but gets caught.
Is Penny related to someone on the GH canvas?
Ava and Julian become more dangerous.
Lucy wants to know who Patrick's mystery patient is in Seattle.
Alexis can't help but have feelings for Julian.
A daughter (or two) arrives in Port Charles.
Julian decides that someone is a liability and takes steps to remove him.
Britt is unnerved by Dr. Obrecht's warning.

Coming...


The arrival of a mystery woman spells trouble for someone.

Dr. Obrecht knows many of the Cassadine family secrets including who's alive and where and what they're hiding.

Scotty decides to ruin Lucy's marriage when she won't give into his desire to get back together.
Scott overhears Kevin calling someone "honey" on the phone and tells Lucy.

Ava wants Julian to help her get rid of Nathan.

Nathan has his own reasons for going after Silas.

Sam accompanies Silas as he attempts to visit his wife. Not long after, he is told that she has passed away.

Michael worries about AJ.

AJ continues to drink heavily and decides to take a drive.

Morgan meets someone new.

Duke and Anna make plans.

Spencer has an "imaginary" friend (this should be Kailey, a young Cassadine).

Nikolas wants to marry Britt.


Britt manages to come up smelling like roses...for now.

Ric and Alexis don't see eye to eye over Molly dating TJ.

Sonny demands to know why Ric is back.

Ava turns to Ric for a favor. (Apparently he owes her one from the past?)

Just how complicated will things become between Sonny and Ava? Maurice Benard hints in SID that, "something interesting might happen".

Nathan tells Kiki about the case against Silas.

Nikolas plans an engagement party.



Silas remembers something that could change everything.
AJ remembers what happened the night Connie died.
Love is in the air and a proposal is made.
A shot is fired in Port Charles. Tune in to see who is taken out!
Silas and Sam make a shocking discovery about his wife.
Someone is thrown in jail. Who and why?
Week of March 3rd
3/3 Sonny tells Michael he would never hurt AJ.
Anna confronts Duke about AJ's attack.
A.J. confronts Ava.
Victor makes an unexpected request of Dr. Obrecht.
A moment between Patrick and Robin is interrupted.

3/4 Ava and AJ engage in a struggle.
Obrecht confronts Anna about Faison.
Patrick and Robin share another bittersweet moment.
Silas tries to see his wife.
Victor tells Patrick that Robin should stay hopeful.

3/5 The police arrive at the scene of the crime involving AJ.
Someone spies on Sam and Silas.
Luke comes clean to Tracy.
Elizabeth tells Michael about AJ's condition.
Ric has a revelation for Elizabeth.

3/6 AJ struggles for his life and the suspects look for alibis.
Anna makes an arrest.
Michael rushes to his father's side.
Luke tells Tracy why he lied to her.
Molly and T.J. regret their estrangement.
Luke tells Tracy why he deceived her.

3/7 Michael and Elizabeth keep a vigil at AJ's side.
Alexis learns that Ric has reconnected with his other ex-wife.
Carlos learns that AJ was shot.
News of who has been implicated in the shooting shocks the town.
Duke's problem may push him farther away from Anna.

Luke's odd behavior continues.
Tracy braces herself for Luke's confession.
Port Charles residents are shocked over who's been implicated in a recent shooting.
Robin leaves Port Charles this week.
Shawn observes A.J. heading to Ava's and informs Sonny.
Sonny makes a beeline to Ava's apartment.
Ava draws a gun and takes aim at AJ. A gunshot rings out as AJ and Ava struggle over Ava's gun.
But who fires the bullet that hits AJ?
Victor is willing to give Liesl Obrecht information about Faison...for a price.
Robin and Emma have some quality time together.
Silas and Sam make an unexpected discovery when they go to visit Nina.
Ric visits Elizabeth at the hospital (see Sneak Peek video on
Page 1
of our Spoilers).
Elizabeth is stunned as A.J. arrives in the emergency room in critical condition.
Also Coming....
Ric wants Molly to live with him.
According to SID, AJ's life hanging in the balance will have far-reaching consequences and involves characters beyond AJ and Ava. If AJ lives, the shooter will be furious. Although it is unclear exactly how at this point, Ric is going to factor into the story. Clues will point in the wrong direction which ends up leading to new elements. AJ will know who shot him but may not be in any condition to reveal the info to the police. The outcome will change the lives of major characters in Port Charles in a big way.
Carlos finds himself torn between loyalties.
Duke is asked to be an alibi, but the lie could cost him Anna.
Morgan is questioned.
Sam talks to Nathan about a possible new suspect.
AJ wakes up! What will he reveal?
Will Liz accept Nik's invitation to his engagement party?
Lulu has a telling dream about Ben.
Ava takes drastic measures to cover her tracks.
Luke shows another side of himself to Kiki. His strange behavior impacts her.

Week of March 10th

3/10 Carly confronts Sonny as AJ's condition changes.
Duke reveals information to Anna about one of the shooting suspects.
3/11 Michael acquires new information about AJ's shooting.
Felix walks in on Lucas and Brad.
3/12 Britt tells her mother that she is engaged to Nikolas.
Silas reveals to Kiki what happened to him in New York City.
3/13 Monica asks Patrick to help save AJ.
Lulu dreams that Ben is her son.
3/14 Someone from Silas' past pays him a visit;
Donna Mills
first airdate.
Sam tells Nathan about a potential new suspect in Nina's case.
A threat lurks in AJ's room.
Anna and Dante try to get to the bottom of AJ's shooting.

Also coming...
Duke reluctantly confides in Anna..
.
but not with the truth. He covers for Julian's whereabouts.
We learn about Ric and Julian's history.
Morgan has an unexpected encounter with Kiki.
Sonny tries to be there for Michael.
Lulu offers to help out with the preparations for Nik and Britt's engagement party.
Britt has qualms about trusting her mother.
Felix is unhappy that Brad and Lucas are spending time together.
Nik is not pleased that Ric appears to be back in Liz's life.
Emma's questions about Robin only adds to Patrick's frustration.
Monica pleads with Patrick to save A.J. as they discuss his prognosis; meanwhile, a threat lurks nearby...
Ava! Just as she is about to pull the plug, he grabs her hand.

AJ awakens long enough to spill that Julian did not shoot him, unfortunately before he can say more he has a serious seizure. He will need further surgery.
Lulu keeps her dream about Ben to herself.
Brad is haunted by feelings of guilt.
Alexis and Molly have a down and dirty argument about Molly's desire to move in with Ric.
Scott tells Kevin that there was a period of time at Miscaviage when he and Luke were apart.
Week of March 17th

3/17 Nathan's true motives are revealed.
Michael makes a difficult decision about AJ's medical condition and treatment.
3/18 Sonny asks Alexis for a favor.
Lulu tells Lucas about her feelings for Ben.
3/19 Michael receives bad news about AJ's condition.
Britt decides to destroy some evidence about Ben's parentage.
3/20 Ric offers Cameron advice about Emma.
Sam tells to Silas about her romantic past.
3/21 Elizabeth learns the secret about Ben.
Sam and Silas share a romantic moment.
Shawn and TJ are shocked by an unexpected visitor.
Elizabeth learns a truth about Ben.
Ava and Sonny are interrupted by Morgan.
A face from Nikolas' past reappears (Emily).
(And This and That...In no particular order...)
DID YOU KNOW?...
Live Recaps as the show airs are available on our Homepage!
Donna Mills has taped scenes with Silas, Sam, Nathan, Dr. Obrecht (and possibly Ava, Ric and Dante). She taped about 12 episodes and is done for now. Thus far, no word on whether she will be seen again.
On March 7th,
Kelly Thiebaud
(Britt) tweeted:
I get to play drunk today. Really really excited for this.
Zachary Garred
has been cast as the comical character mentioned previously in Rumorville, as Maxie's personal guru who returns to Port Charles with her. He begins taping on March 7th.
Lisa Lewolt
has been cast, most likely as one of Lucy's daughters (Serena or Christina).
According to her facebook page,
Lynn Herring
(Lucy) has already begun the fitting process for her gowns for the Nurse's Ball.
Down the road
, we will learn that Jerry Jacks knows why Jason was saved.

Donna Mills' first airdate on GH is March 14th.

Kirsten Storms (Maxie) returns to taping GH the week of March 3rd.

GH is casting a new female contract player... "Early - mid 20s, Caucasian, sexy, dynamic, 'bad girl'. Prefer blonde but will consider other."
Liz's confession of love, despite Nikolas' initial reaction, will have an effect over time.
In a recent SOD interview, Tyler Christopher hints that they are trying re-introduce the idea that the only reason his character, Nikolas, betrayed his brother with Liz was because Nik was, "truly in love, completely head over heels in love with Elizabeth..." And now, "How does he differentiate between his love for Britt and his love for Elizabeth?...That's the story moving forward."
Rebecca Herbst adds, "I think Tyler has the right idea [that the two] characters really do love each other." Herbst hopes that fans will be pleased to see the relationship resurrected.

"Emily" (Natalia Livingston) will advise Nikolas to follow his heart.

Sam and Silas' visit with Ava's mother provides some insights into Ava.

How many secrets is Ric hiding?

Will Britt consider fleeing with Ben?

Spumors: Some suggestions that Sam (in addition to Patrick) will be made aware (at least at some point) that Robin leaves Port Charles in an attempt to save Jason. Nevertheless, it is said by some, it seems that Sam does not want to bet her own future on it. A Jason recast for this summer could be in the works.

Further down the road, look for Liz to catch Brad in a lie.

Kimberly McCullough on Instagram: "Not goodbye, see you later."

GH is casting for the character of "Levi", age: late 20's to mid-30's, shaggy hair, cute, new age vibe, earth conscience, soulful, zen and chill, for a recurring role. This character, described as really fun, is set for a two to three month arc.

Looks like Natalia Livingston (ex-Emily/Rebecca) is taping on Wednesday, Feb 5th. Supposedly she is in scenes with Britt and Nikolas.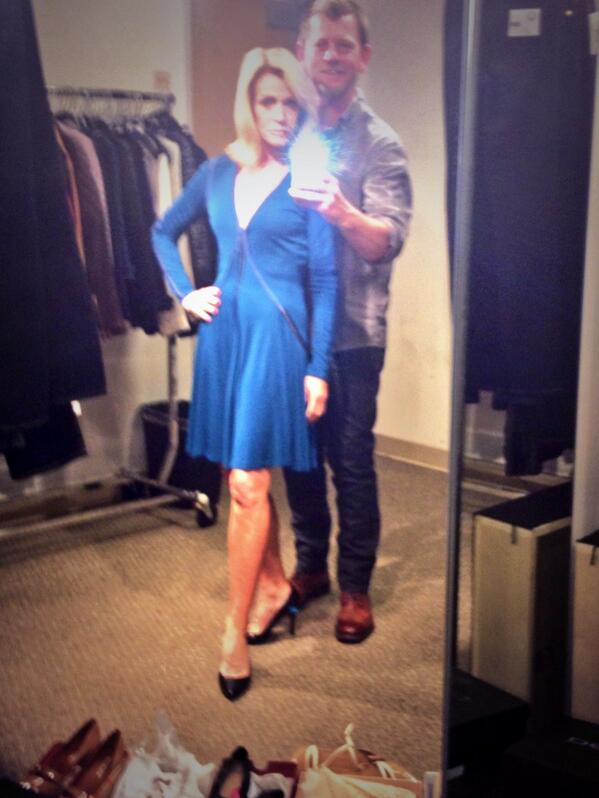 Donna Mills, seen above being fitted for wardrobe, begins taping Monday, Feb. 3rd, which means she will show up onscreen in late February or early March; her first scenes are with Michael Easton (Silas).




Molly sees her father, Ric Lansing, the week of February 24th. This is also the last week that Robin Scorpio airs.




Head writer, Carlivati, regarding Sam's doubts about Silas, "because it's a love story", the question is, "can Sam overcome this?"




Ava hasn't revealed everything about her involvement (or lack thereof) with Nina. There are still a lot of mysteries to unravel.


What other secret or secrets is Silas hiding from Sam?

Rick Hearst is returning to GH. Word is that his character is also set to tape with Molly, Alexis,
Liz, Julian, AJ, Ava, and Felix among others, and that he may be around for six months or so.
Illene Kristen is returning to GH as Delia, Ava's mother. Frank Valentini tells SOD, "Ilene did a fantastic job and Delia is an important character. I think her return will show viewers another side to Ava." Says Maura West (Ava) , "Ilene is fantastic, I look forward to having scenes with her. That mother/daughter relationship is one I would love to see fleshed out."

Kimberly McCullough (Robin Scorpio) announced at the ABC TCA event that she is exiting GH once again to pursue a directing opportunity. She hinted that some fans may not like the way her character exits but it will be for reasons involving love. (Word is that it involves history.) She still has a few weeks left to tape. McCullough is open to another return in the future.

Kelly Thiebaud (Britt) tweeted she broke her wrist after a fall from a skateboard. No word if the cast she is wearing will be explained on air.

Expect to see "new" flashbacks of the night Connie was murdered. It looks like Kelly Sullivan returned to tape them.

Dr. Obrecht causes havoc at General Hospital.


Thaao Penghlis tweeted that he had been reading his first few scripts:
"I seem to always be involved in stories that are playful and mysterious."
As mentioned below, he began taping as Victor Cassadine on Monday, Jan. 6th.
Victor seems to have an interest in Dr. Robin Scorpio's research abilities. Britt may have a hand in bringing him to town, thanks to her mother.

According to SID, Teresa Castillo (Sabrina) and her husband found out on Christmas day that they are having a girl. As stated further below, her due date is May 14th. Says Castillo,
"I feel like I'm in a good place, career-wise and in my personal life, as well. Shane and I have been together for quite a while now and we've always wanted a family. We're so excited to start this new chapter in our journey. And it's so awesome that GH wrote in Sabrina's pregnancy. I feel like it was appropriate for the story. It just adds to the drama, and I love it."

Thaao Penghlis (Victor Cassadine) begins taping on Jan. 6th; he is filming 6 episodes in his first few days.

Tracy and Luke remain together for the time being, but it is anything but smooth sailing--especially with the renewed Cassadine presence in town.



More heartbreak ahead for Lulu and Dante.




Julian loses an ally.




Thanks to Scott Baldwin, Anna's job could be in peril.

A new piece of information could lead to Kiki and Michael questioning their relationship.




Carly has a story coming that goes beyond Franco. It begins in early 2014 and will stretch until at least spring.

When Britt's lie about Ben is finally revealed, it may not necessarily mean a happy ending for Lulu and Dante as a couple. In fact, it is likely to tear them apart. As for Britt, she stands to lose everything.


Valentini

hints that Faison is not necessarily dead.

The Nurse's Ball will definitely return in 2014.


Victor Cassadine's return will impact a broad swath of Port Charles citizens in 2014.

Sonny and Olivia continue to grow closer.


According to SID, Sean Kanan says he is still on contract and isn't going anywhere.
AJ still wants to win back Liz and Michael.

In all likelihood, part of the lie about Baby Ben will not be revealed prior to February--however, viewers will know the truth much sooner. Don't expect the full truth to be outted to all the players until much later down the road.

Could there be more behind the explanation that Sabrina had/gave of why there are no photos of her mother?


Scott finds himself indebted to the Jeromes and that may entail him spending more time with Ava. How will Morgan react? Christina observes Scott with Ava and uses it to an advantage.

We may soon learn that "Penny" is really Serena Baldwin (the child that Lucy birthed through surrogacy for Scott and his late wife, Dominique).

Ava looks to cover her hide from the wrath of Sonny.

Frank Valentini in SID,
"We'll definitely see Laura again sometime in the future. We love Genie and she's an important part of GH."


In a recent AP article, Frank Valenti said the show is working to bring back other actors from GH's past
.
"We'd love Demi Moore to come back. We'd love John Stamos to come back. We've still got plenty of fun stuff to do and plenty of surprises."
He also mentioned that he plans to do more Nurses Balls in the future.
AJ will start to build himself back up; more is revealed about Connie's death.
Will Ava try to extort an alibi from Silas for the night of Connie's murder?
It won't be long before suspicion points towards Ava Jerome in the murder of Connie.
The initials that Connie wrote, "AJ", may lead Diane in her direction in her defense of A.J..
Ava may want to watch her back once Sonny gets wind of this.
Look for A.J. to begin to remember more bits and pieces of that evening.
Will Carly, Olivia, Brenda and Robin try to convince Sonny to leave the mob life behind for his own good?

After observing Scotty playing dirty, Christina makes a threat.
She wants him to stay away from Lucy.


A history of the Jerome family can be found
HERE
.~~~
Liz will view Britt in much the same way that Nik sees AJ, as not worthy of Nikolas' time or attention...and not to be trusted.
Don't be surprised to see
Vanessa Marci
l (Brenda) to pop back in for a visit, sometime in 2014.
You can order a copy of Molly's new book,
"Maine Squeeze"
for your Kindle from Amazon,
HERE.


Deadline reports that Roger Howarth is set for a multi-episode arc on Showtime's veteran comedy Californication. Howarth will play a yoga teacher in the class of Karen (Natascha McElhone), Hank's (David Duchovny) longtime, on-again/off-again girlfriend and mother of his daughter.
Will Duke's old connections to the Jerome family, plus Tracy's connections to mob money/ELQ rear its head? What about Lucy, who was the object of Victor Jerome's (now deceased) obsession? Who here remembers that Lucas Spencer, Bobbie and Tony's adopted son, was a Jerome (son of Tiffany's sister, Cheryl, and Julian Jerome (both now deceased)?
For details on the Jerome Family history:
CLICK

There is much more to come in the Spencer/Cassadine story.
If you enjoyed the Nurses Ball opening number, you can download it on iTunes:
HERE
.
Maurice Benard
admitted recently that he wouldn't mind seeing what Sonny's life would be like outside of the mob, without all the power.
~


Privacy Policy

Not associated with ABC or Walt Disney