general hospital spoilers
General Hospital Happenings© 1999-2013
Dates and Events may vary slightly from posted information.

Continued from Page 1 of Spoilers
Scroll all the way down...the Newest Spoilers are located thru-out this page
in WHITE.
Help boost GH's ratings even more. Watch live, and watch your recorded TiVo's/DVR's the same day or w/in 24 hours,
AND
at the
ABC.com
site
and
SOAPnet! Remember: DO NOT fast-forward through commercials when watching your recordings...it counts!
UPDATE:
Not a Nielsen viewer? Here is another way to be counted!
Watch at
http://abc.com/iPhone/iPad
then click on the sponsors' websites to thank them!
~~~~~~~~~
NEW POLL!
You may vote once a day.


Behind the scenes at GH. Note the guy on the floor of the warehouse.
Its a cop.
Kelly Monaco
taking a catnap between scenes.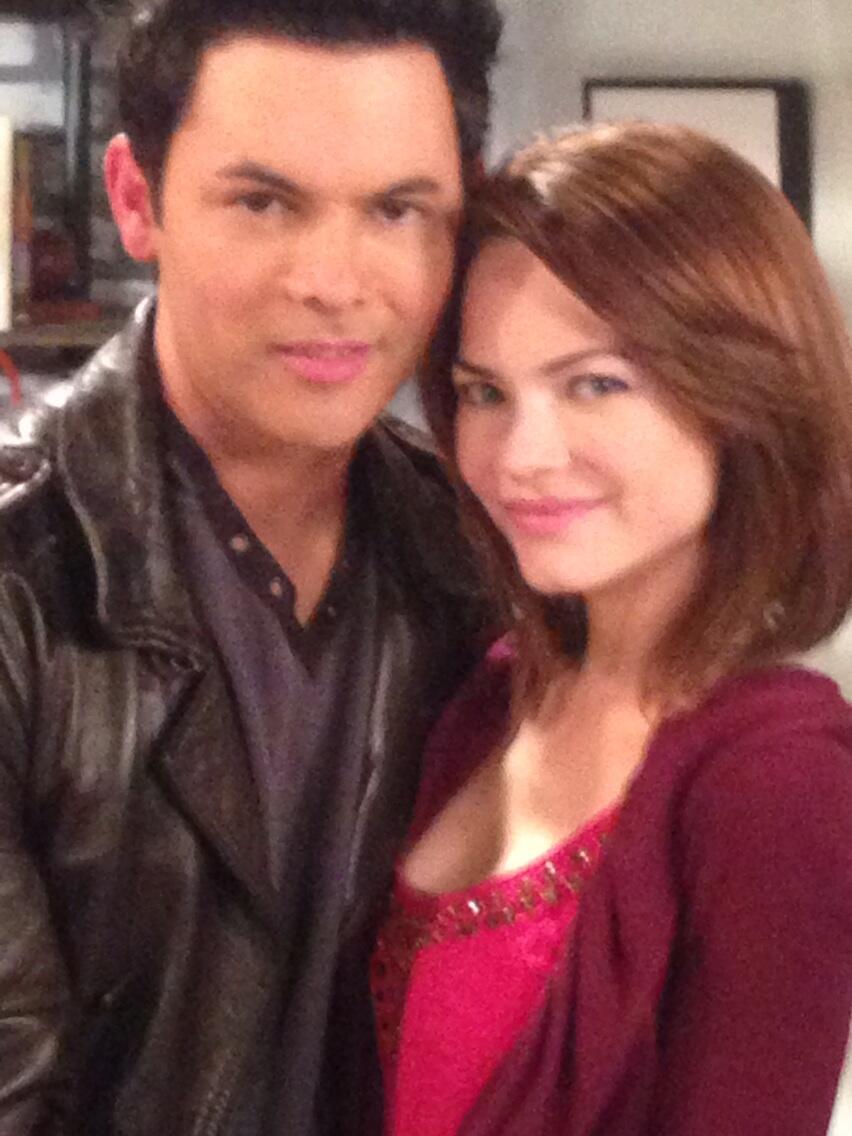 Frank Valentini
tweets: "
Look who dropped by yesterday? Beautiful couple".

Rebecca Herbst
and her husband,
Michael Saucedo
(ex-Juan Santiago, who will be making an upcoming appearance on GH.)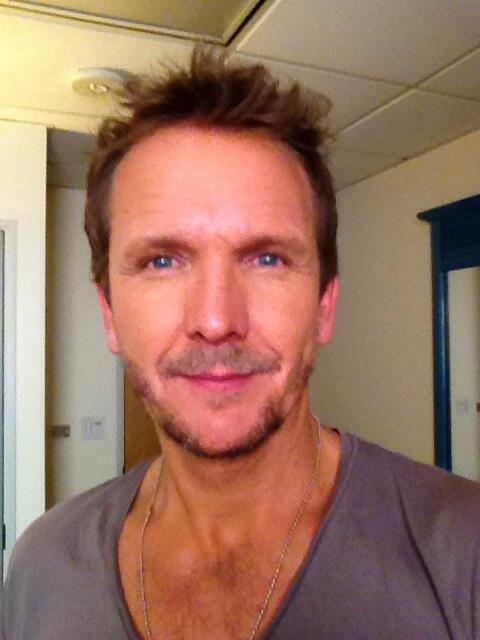 Sebastian Roché
sharing
"another shameless selfie".



Kirsten Storms
proudly showing off her pregnant belly,
"Baby Girl Barash".



Kelly Monaco
,
"I'm a lucky lady."
Indeed.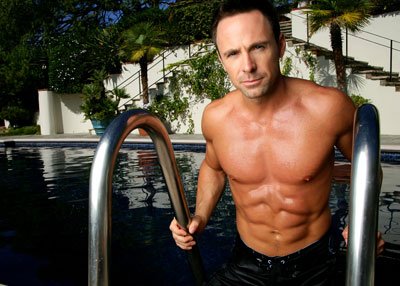 William deVry looking a tad...ummm...wet.

Coming...
Someone enters into Lulu and Dante's relationship when they're in a vulnerable place.

Someone connected to Alexis seems awfully familiar to Nikolas.
Helena may have had some surprising people on her payroll.
Sonny is not happy when he learns the identity of Michael's new friend; he thinks she
is using Michael to get info about Sonny for someone else.
Kevin doesn't want Lucy to know about Christina's numerous troubles.
Christina might not want to listen to Lucy but she will listen to another Port Charles lady who gets through to her.
Sonny will have a full plate coming up.
Ava and Julian scheme to get rid of anyone who stands in their way and that includes the Quartermaines and Sonny.
Luke may have uncovered a larger conspiracy.
Monica reminisces about Sean Donely.
Christina accuses Lucy of having an affair with Scott Baldwin; Christina tells Kevin that she saw Lucy and Scott "together".
Silas becomes more protective of Sam and Danny
The lack of trust between Ava and Julian is evident.
Julian's fondness for Sam and Danny grows.
After more mysterious phone calls, Lucy demands that Kevin tell her where he is going all the time and who is taking up so much of his time. This is when Kevin confesses that he has been keeping in touch with their daughter, Christina. Lucy is relieved but wonders why Kevin didn't tell her in the first place. Before Kevin has a chance to explain, Christina arrives in Port Charles.
Christina and Lucy's initial encounter does not go well. After Kevin tries to reason with Christina, she agrees to apologize but just so happens to misinterpret a close moment between Lucy and Scott. She immediately becomes highly suspicious. Later on, Christina witnesses Scott involved in some dirty dealings and decides to use it against him.

Julian is aware of the growing dislike Ava has for Sam. Julian sternly warns Ava to stay away from Sam and Danny. If any harm befalls them, she will have to answer for it. Meanwhile, a jealous Ava still wants Silas back, so that may be easier commanded than done.

Nikolas becomes more protective of Britt as her deception sends ripples of anger for many in Port Charles. He empathizes with her upbringing and sees her as a female version of himself. Will their relationship remain one of friends/shared trust or turn into something more?

Things for ELQ are not going as well as Tracy would hope.
Also...


Sonny asks Ava to testify against A.J.

"Penny" believes she will be recognized.
A PC resident is very familiar to a few people.
Scotty plays dirty but gets caught.
Carlos finds Liz in tears, and later, a very angry Carly.
Julian may decide to weaken Sonny by having Shawn taken out, but the shooter misses his target and someone else is felled (possibly TJ).
Is Penny related to someone on the GH canvas?
Ava and Julian become more dangerous.
Lucy wants to know who Patrick's mystery patient is in Seattle.
Robin's memory looms over those that love her.
Silas continues to pursues Sam.
Alexis can't help but have feelings for Julian.
Shawn does not like Julian hanging around Alexis.
A daughter (or two) arrives in Port Charles.
Julian decides that Shawn is a liability and takes steps to remove him.
Britt is unnerved by Dr. Obrecht's warning.
Britt stumbles upon a secret.
Ava will do anything to get Silas away from Sam.
Lucy tells Sabrina she can't marry her and Patrick. Why?


Spinelli takes baby Connie into his care. Will Maxie be able to abide by the judge's order?

An emotional reunion is cut short when it becomes clear someone is still in danger.

Anna seeks justice — but will she take matters into her own hands?


Robin is desperate to free herself from Jerry's clutches.

Week of November 25th
11/25 Fans can expect a long awaited reunion this week!
Will Patrick believe Ava's claims that Robin is alive?
11/26 Someone advices Patrick to call off the wedding.
Rumors about Robin start to circulate. Will anyone believe they are true?
11/27 Sabrina walks down the aisle, but will she be Mrs. Drake when she walks back down?
Faison may not realize the dangers of his next deception.
11/28 Repeat episode: Halloween
11/29 No GH


A former Port Charles resident returns (Juan Santiago).
He has brought a special surprise for his cousin, Sabrina. Her mother's wedding dress.

Britt encounters Brad in the lab.

Dr. Obrecht comes up with the perfect way to hurt Anna.

Anna and Duke stop Dr. Obrecht.

Luke shoots Faison, but it turns out Faison is wearing a bullet proof vest.

After Anna and Robin are reunited, Robin shows her the invitation to Patrick and Sabrina's wedding.
Anna urges Robin to go to Patrick before it is too late.

Luke, Faison and Nikolas disappear...Robin fears the worst.

Robert and Anna attempt to save Nik and Luke.

Mac and Felicia urge Maxie to attend the wedding with them.

Spin objects when Maxie wants to see her daughter.

Ellie tries to give Spineilli a helping hand with the baby; Sam helps Spin with the baby.

AJ thinks with the deck stacked against him that he will soon be headed for prison.



Coming...
Patrick and Sabrina don't complete their wedding.

Patrick will see Robin on his wedding day.
Bobbie Spencer, who has returned for Thanksgiving, is shocked at what she finds in Luke's suite at Metro Court (Jerry Jacks).

Will Jerry and Bobbie talk of old times, or will he turn the tables and take Bobbie hostage?

Robin's return has Sam thinking of Jason, praying for him to return from the dead as well.

Bobbie is initially less than enthusiastic about Carly's involvement with Franco.

Felix does his best to console Sabrina.

An attempted hit on Shawn goes wrong.

Robin is moved when she overhears Patrick and Sabrina exchanging their vows.
Will she speak up -- or forever hold her peace?


A heartbroken Maxie finds comfort in an unexpected place.


Sonny makes Duke an offer he can't refuse.


AJ makes a surprising decision at his murder trial. Will it cost him his freedom?

Week of December 2nd

12/2 Jerry holds Bobbie hostage at the Metro Court.
Britt and Nikolas bond during a moment of calm.
Emma spots Robin at the wedding chapel.
Emma insists that she saw her supposedly dead mother during the
wedding.


Anna and Robert spend some time debating the pros and cons of murdering Faison.

12/3 Anna contemplates telling Duke of Derek Wells' true identity.
Duke gets a surprising call

.
Sabrina and Patrick are in for a shock; more reunions with Robin and her loved ones.
Emma is absolutely over-joyed to be reunited with Robin, but it could mean dire consequences for Patrick and Sabrina's relationship.
Both Carly and Bobbie are present during the standoff between Luke and Jerry.
Jerry doesn't realize how serious Luke is about his bluff and it leads to a trip over the balcony.

12/4 Julian and Carlos bond.
The fall out of Robin's return; the news of Robin's being alive and return is spreading over Port Charles with mixed reactions.
Sabrina heads out to see Carlos.
Sam makes it clear that she wants nothing to do with her father, after another startling reveal, when she and Silas cross paths with Julian and Carlos.
Sonny makes Duke an offer he can't refuse.
12/5 Sabrina and Carlos have a confrontation about Robin's return; Carlos helps Sabrina remember what happened after Robin was revealed to be alive.
Patrick realizes that he must choose between Robin and Sabrina, but is getting worried when Sabrina can't be reached.
Felix finally reaches Sabrina and tells her that Patrick is anxious to speak with her.
Mac seeks out Maxie at her apartment.
Robin confides secrets in Anna.

12/6 Maxie learns that Robin is alive when Robin finds her in a location reserved for the dead.
Ava and Sonny run into each other outside the courtroom.
Ava takes the stand at AJ's trial.
Patrick witnesses Sabrina and Carlos in what appears to be a close personal moment with each other.
Patrick tries to deal with his complicated emotions.
Carly tries to comfort Franco when he tells her about his conversation with Scott.




Emma spots an uninvited guest at Patrick and Sabrina's wedding...Robin!
Then Patrick sees her too.
A joyous reunion holds some shocking consequences for Patrick and Sabrina.

Emma sees Robin before the wedding is completed, dashing towards her, while a stunned Patrick looks on in shock and disbelief.
A heartbroken Sabrina quietly slips away.
After speaking with Robin, Patrick realizes that Sabrina is gone.
Patrick asks Felix to check on Sabrina.

Sabrina encounters Carlos, and they talk about what happened at the wedding and about her not believing him.

Patrick finds Sabrina with Carlos.
Sabrina tries to let Patrick off the hook.
Patrick worries that Sabrina will get involved with Carlos again.

Will Carlos take advantage of Sabrina's vulnerable state of mind?

A distraught Maxie is swallowed up in her grief.
She needs Robin and will soon get her wish.
Mac and Felicia tell Robin that Maxie needs her; Robin agrees to go see Maxie.

The citizens of Port Charles are left reeling from the latest revelation.
Sam learns how Faison was involved in Jason's demise.
Anna and Robert argue about what to do with Faison. Anna wants to kill Faison, believing it is the only way to protect their family. Will they let him live?
Jerry refuses to release Bobbie until Luke gives him the cure.
Will Jerry see through Luke's bluff?
Julian and Carlos talk about Sam and Sabrina.
Ava fears that Duke poses a threat to both her and Julian.
Maxie's guardian angel keeps close watch over her.
Robin goes to Georgie's grave site.
Also Coming...

Sonny has Shawn dig up info about Carlos.
Sonny intends to send Julian a strong message.
Maxie and Robin offer each other words of encouragement.
Ellie has a new career opportunity.


Week of December 9th

12/9 Sonny and Shawn appear at Carlos' door.

12/11 Patrick has to sort out his feelings.



Heather finds Carly in the shower.

The jury is adjourned and later reaches a shocking decision.

Franco scrambles to hide a body.

Elizabeth questions Nikolas about his feelings for Britt.
Nikolas is conflicted.

Britt receives a package for PK Sinclair, her father's alias as an author.

Sonny has advice for a grieving Dante.

Spinelli has life-changing news.
Spinelli pays Maxie a visit before leaving town with Ellie and the baby.

Lesley takes Spencer to visit his uncle, Sonny.

Duke confronts Robert about Julian.

Dante and Lulu are at a crossroads that threatens their marriage.
Dante suggests that he and Lulu try for another baby.
Dante and Lulu are stunned to learn that their embryos have disappeared.

Silas and Sam get into the holiday spirit.

Sam slips up and mentions Lucas to Julian.
Sam and Carly discuss whether or not to warn Bobbie.

Robin asks Sabrina to walk away from Patrick.
Felix is resentful of Robin pressuring Sabrina.

Lucy's marital woes become more complicated.



Coming...

Britt makes a confession.

Morgan and Ava grow closer.

Molly and TJ argue.

Sonny holds Carlos captive.

Patrick makes his decision.
Patrick informs Sabrina he has chosen to remain with Robin. He promises to always be there to help Sabrina.

Sonny tests Duke's loyalty.

A fire fight ensues at Sonny's warehouse and someone is shot.

An unknown caller hounds Ava and Silas.

Patrick, Emma and Robin will spend Christmas together. Patrick will ask Robin to marry him again.

Sabrina finds Carlos after he has been shot and seeks out Patrick's help. He agrees to treat him and promises not to report it to the police.




(And This and That...In no particular order...)
DID YOU KNOW?...
Live Recaps as the show airs are available on our Homepage!


New Year's Eve will be a big event, so to speak, with a lot of activity spread over several days.

The mob war heats up in a big way.

Everyone is aware of Patrick's ego when it comes to his medical expertise. How will he react when he is passed over for Chief of Staff while his wife gains high praise, and more, for her miraculous cure?

Ava asks Patrick for a favor.

Ava is up to dirty tricks in her attempt to keep Sam and Silas apart, including using Sam's greatest weakness against her, and Silas' secret past.

Robert Scorpio leaves town not long after the reunion, off on another adventure.

Juan Santiago may stick around longer than expected.

According to SID, Sean Kanan says he is still on contract and isn't going anywhere.
AJ still wants to win back Liz and Michael.

Expect Bobbie to cross paths with Julian Jerome.

Spinelli and Ellie discuss leaving town with the baby to avoid violating the judges order.

In all likelihood, the lie about Baby Ben will not be revealed prior to February--however, viewers will know the truth much sooner.

Robin's successful research, once revealed, will garner a lot of attention...and money.

Could there be more behind the explanation that Sabrina had/gave of why there are no photos of her mother?

Tristan Rogers

tweeted:

"I'd like to thank Frank and Ron for great storyline that kept Scorpio true to himself. I'm stoked on Colin's return to #YR in 2014 and delighted to once again be a part of the CBS Daytime family."

Ron Carlivati tweeted: Guys, I had no idea Tristan Rogers was leaving. I found out last night. I now have 1 day to write him out of a big Feb Sweeps storyline. Meanwhile, you will see a lot of Robert between now and February! And please respect Tristan Rogers and his decision. Thanks.

Tristan Rogers (Robert Scorpio) is returning to The Young and the Restless as Colin Atkinson. No word on when or the length of time but apparently it involves a storyline for Jess Walton's character Jill Abbott.

Jackie Zeman 's (Bobbie) first airdate is November 27; she has scenes with Carly and Luke. She has had four scripts to film. No word as of yet on Lucas.

How will Lulu react to Olivia's latest visions (baby involvement)?

Scott finds himself indebted to the Jeromes and that may entail him spending more time with Ava. How will Morgan react? Christina observes Scott with Ava and uses it to advantage.

We may soon learn that "Penny" is really Serena Baldwin (the child that Lucy birthed through surrogacy for Scott and his late wife, Dominique).

Michael takes Kiki to GH for tests.

Ava looks to cover her hide from the wrath of Sonny.

Looks like Maxie gets another "visit" from Georgie.

Frank Valentini in SID,
"We'll definitely see Laura again sometime in the future. We love Genie and she's an important part of GH."


In a recent AP article, Frank Valenti said the show is working to bring back other actors from GH's past
.
"We'd love Demi Moore to come back. We'd love John Stamos to come back. We've still got plenty of fun stuff to do and plenty of surprises."
He also mentioned that he plans to do more Nurses Balls in the future.
Not even Dr. Obrecht and Faison can stop Britt and Nikolas from growing closer. Look for Elizabeth to do her best to get the Britt out of the Nik's orbit.
The outcome of the nasty custody battle is one no one expected. Can Lulu and Maxie ever come back from this?

Alexis will struggle with her feelings for Julian when the truth comes out; meanwhile, Silas will be there for Sam.

AJ's trial starts in November. When certain revelations come out, according to Ron Carlivati,
"I think it would be a challenge for Elizabeth to stick with this relationship at this point."
Jackie Zeman
tweeted:
Just received my scripts for Bobbie's return to GH. Riveting!!!...Am excited, very happy.

Bobbie Spencer
(Jacklyn Zeman)
will be returning to Port Charles a bit down the road, most likely to help re-introduce the character of her adopted son (Julian Jerome's bio-son and Sam's half-brother), Lucas. If you recall, the character of Lucas is gay. Whose eye will he catch, Felix? Brad? or both? Bobbie will also be heavily involved with Carly's story.
(Word is that Lucas is in the medical field, most likely a doctor, and that Kevin helps him get a job at GH.)
SID has confirmed our previous
Rumorville
item, Michael Saucedo is returning as Juan Santiago.
What decision will Mac and Felicia have to make for Maxie?
According to Frank Valentini, in SID, we will see more of Liz when AJ's story picks up again.
AJ will start to build himself back up; more is revealed about Connie's death.
Will someone need to take a pregnancy test (Kiki)?
What does Britt learn about Ellie?
Sonny remains vulnerable to the Jeromes.
Duke is determined to bring down the Jeromes.
Will Ava try to extort an alibi from Silas for the night of Connie's murder?
In addition to Robin Scorpio, it appears that Robert Scorpio, Jerry Jacks, and Cesar Faison will be among some of those returning leading into and/or during November sweeps (some possibly beyond?). Expect some notable exits as well.
It won't be long before suspicion points towards Ava Jerome in the murder of Connie.
The initials that Connie wrote, "AJ", may lead Diane in her direction in her defense of A.J..
Ava may want to watch her back once Sonny gets wind of this.
Look for A.J. to begin to remember more bits and pieces of that evening.
Sonny's relationships with all three of his sons will change dramatically over the next few months.
Franco will continue to change and the connection with Carly will continue to grow.
The AJ/Liz/Nik/Britt situation will shift.
Robin is a feistier woman when she returns and she wants back what is hers: her life and her family!

Will Carly, Olivia, Brenda and Robin try to convince Sonny to leave the mob life behind for his own good?

Production on "One Life to Live" and "All My Children" has ended. .

A dominant question to ponder: How did AJ get home from Connie's office?
Will this lead to an unexpected twist?

We will learn more about Ellie's past and her parents.

After observing Scotty playing dirty, Christina makes a threat.
She wants him to stay away from Lucy.


Lucas returns at some point down the road, at the absolute worst time possible, since the Jeromes are back

(his biological father being Julian).
Carly's sympathy for Franco grows.
A history of the Jerome family can be found
HERE
.~~~
Lisa LoCicero (Olivia Falconeri) has renewed her contract with GH.
Liz will view Britt in much the same way that Nik sees AJ, as not worthy of Nikolas' time or attention...and not to be trusted.
Don't be surprised to see
Vanessa Marci
l (Brenda) to pop back in for a visit, possibly later this year or early next year.
Rachel Fox
will be playing a new character on GH beginning in the early fall.
Word is that she will take on the role of Christina Collins.
UPDATED:
to replace pic for one taken in June of 2013, and to clarify a few details...below
A young actress by the name of Peyton McCormick will be seen soon on GH (she began taping in mid-June and will likely air in the latter half of July.). No definite word on the role she will be playing. From appearances, she could play an age range anywhere from 16 to 23. Thus far it seems that, for this actress, the role is recurring and likely not long term.
You can order a copy of Molly's new book,
"Maine Squeeze"
for your Kindle from Amazon,
HERE.


Ellie may want to watch her back.

Deadline reports that Roger Howarth is set for a multi-episode arc on Showtime's veteran comedy Californication. Howarth will play a yoga teacher in the class of Karen (Natascha McElhone), Hank's (David Duchovny) longtime, on-again/off-again girlfriend and mother of his daughter.
GH has been casting for a blonde male, mid-30's to early 40's.
Bradford Anderson
has decided to continue with GH on a recurring basis. This will free him up to take on other projects. After that he is expect to leave the show, although he could return on occasion.
Will Duke's old connections to the Jerome family, plus Tracy's connections to mob money/ELQ rear its head? What about Lucy, who was the object of Victor Jerome's (now deceased) obsession? Who here remembers that Lucas Spencer, Bobbie and Tony's adopted son, was a Jerome (son of Tiffany's sister, Cheryl, and Julian Jerome (both now deceased)?
For details on the Jerome Family history:
CLICK

There is much more to come in the Spencer/Cassadine story.
If you enjoyed the Nurses Ball opening number, you can download it on iTunes:
HERE
.
Maurice Benard
admitted recently that he wouldn't mind seeing what Sonny's life would be like outside of the mob, without all the power.
~


Privacy Policy

Not associated with ABC or Walt Disney