general hospital spoilers
General Hospital Happenings© 1999-2012
Dates and Events may vary slightly from posted information.

Continued from Page 1 of Spoilers
Scroll all the way down...the Newest Spoilers are located thru-out this page
in WHITE.

Now that General Hospital has been Extended...
Lets not take it for granted. The 9 week run of "GMA in the Afternoon" beginning in July (see News) could be a test for GH's ultimate replacement next year so boycott it! Continue to boycott "The Ch*w". Meanwhile, lets help boost GH's ratings even more. Watch live, and watch your recorded TiVo's/DVR's the same day or w/in 24 hours,

AND

at the
ABC.com
site

and

SOAPnet!
Remember: DO

NOT

fast-forward through commercials when watching your recordings...it counts!
UPDATE:
Not a Nielsen viewer? Here is another way to be counted!
Watch at
http://abc.com/iPhone/iPad
then click on the sponsors' websites to thank them!
*******************
TAKE GHH'S NEW POLL!
Todd does battle with his conscience.
Jason and Elizabeth have been confiding in each other more and more. Liz finds that Jason has a growing presence in her life. What does this mean for them? While Liz tries to warn Sam about potentially pushing Jason away for good,

she also wonders to Steve whether she and Jason are rekindling their long-since-abandoned romance.

What Is Ahead for Jason and Sam?
Ron Carlivati, head writer says in SID,
"I think Jason and Sam are a wonderful couple. As a writer though, having a happy couple on a soap opera is a very difficult thing. It can become stagnant. You have to challenge the couple and test the relationship. There is a happy story to tell of a couple having a baby...but the story I have chose to tell is a different story, and its a little more complicated. It doesn't mean I am not a fan of Jason and Sam because I am a big fan. But that's the journey we are on. We're taking a ride with Jason and Sam, and they're going to go through all kinds of obstacle. I understand that people love their couples. The hope is that Sam and Jason will find their way back to each other in the end. But...you never know."
Who Will Win Miss Personality?
Kelly Sullivan, "
Connie always says how much of a fool Kate is and she feels many things about Kate that aren't positive, but she loves Kate and wants to help her. Ultimately, it's about finding out who's stronger. Connie is going to try to overpower Kate and take them over. 'Just have a seat, and let me do this.' Kate's going to have to find the strength to stop her, which is a beautiful story."
Source:
msn entertainment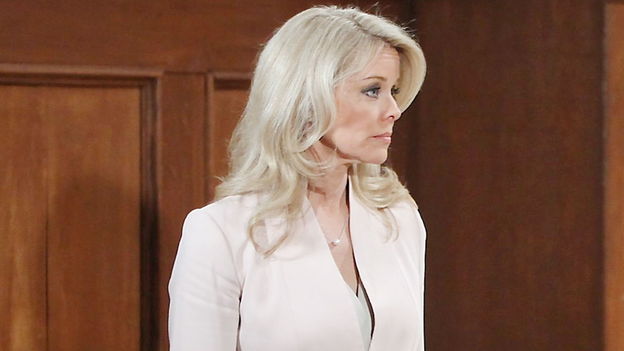 Felicia's return to Port Charles could mean a reunion for her and Mac, if they can work through their hurt feelings from the past.

Ron Carlivati in SOD,
"Getting into the writing of it, you want to play Felicia's history with Mac and Anna Devane now that we have her back on the canvas. There are so many people she has ties with. I think people are anxious to see her cross paths with those people and to see how everyone is going to react to having her back in town. I think especially, Mac because the relationship between Mac and Felicia was so big and it is 'their daughter', because he has been Maxie's step-father for so long."
As for Mac,
"With the reintroduction of Felicia on to the canvas, Mac is kind of rethinking his life and what he wants from it, so he thinks maybe this came at an opportune time for him, as well. He doesn't want to see himself get replaced by somebody incompetent, so he would rather have Anna take the job if somebody has to take it. And, in fact, Mac is somebody who is looking for a change a this moment."
Coming soon...
Richard Steinmetz
(see our previous item on our News page) plays the son of a former character who is Italian and from NYC. Expect his story to be tied to both Jason and Sonny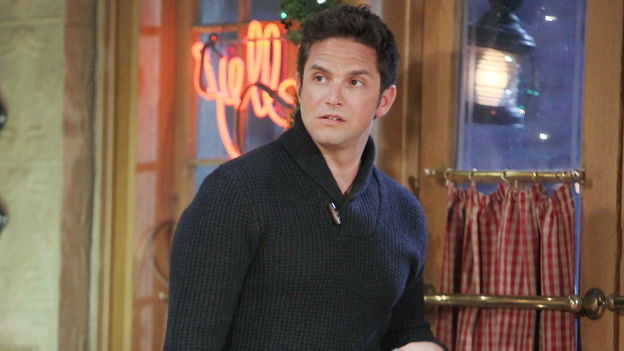 The aftermath of the incident at the Zacchara penthouse reaches far and wide.
Luke and Tracy to get caught up in this in some hair-raising ways.

Kristina's Back!
...With a Dose of "Reality"!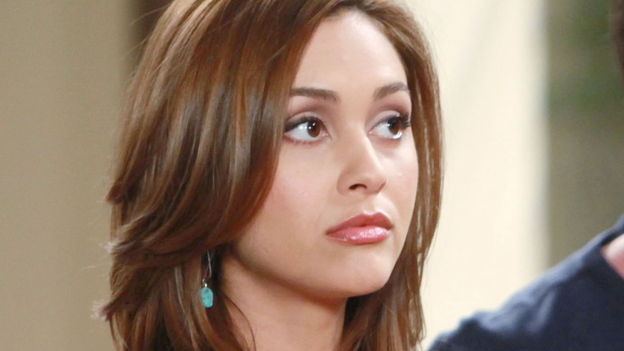 Kristina's return to Port Charles is NOT going to be good news for her mom and dad. Not only is she furious at Alexis and Sonny for buying her way into Yale, but her form of payback is going to put Alexis and Sonny's lives on display for the whole world to see.


Kristina has her own reality show – "Mob Princess."
Kristina is home for the summer and she's wise to her parents' ways. NUKristina,

Lindsey Morgan

, explains,
"All she wants from them is the truth, and she doesn't get it. So she's going to pull out her ace and get her vengeance!"
Kristina's vengeance reflects the dysfunction of her family in a way that has the potential of exploding in her face!

"Kristina is the perfect blend of both of her parents. She is very ethical, like her mother. She's very honest and tells how she feels about things, which I feel comes from her mother, who lays down the law. Then again, she's very much like her father because she is very stubborn and can be kind of a hot head."
Kristina's family project will be part humor, part drama and create a new problem for Sonny and Alexis to have to deal with. Can they handle it gracefully if they present a united front? Morgan hints,

"Both her parents are very strong, and when they come together... whoa!"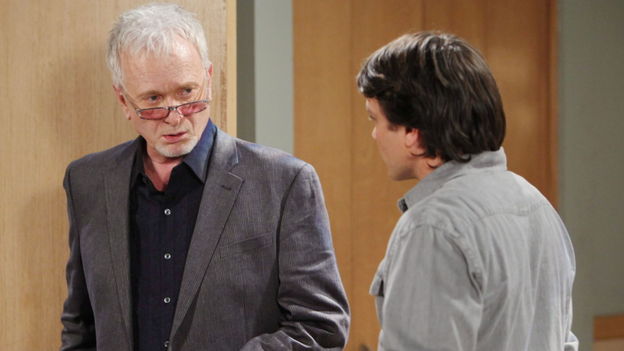 Anthony's dead body has gone missing, much to Luke and Tracy's dismay. Look for Lulu to get caught up in all the drama. Oh, and what does Heather have to do with all this? Notice the theme – Heather's all up in everyone's business.
Spinelli continues his investigation into Heather for Olivia with a little help from Sam.
What leads them to Todd's hotel room?
Luke and Anna wake up in bed together. Guess who walks in?
Liz is unable to keep her date with Ewen when Jason needs her.
Sam insinuates to Ewen that there is something more than meets the eye to Liz and Jason's friendship.
Heather Webber continues to run amok all over Port Charles. Starting with blackmailing Todd to get her a job at his newspaper. But she's got a surprise coming her way when Todd ALSO gives a job to Sam! Heather is righty suspicious, as Sam and Spinelli are inching closer to figuring out the truth about Heather.
Look for Kate to go public with her "guilt" over shooting out Anthony's tires. Will Johnny's conscience get the better of him, or is his reunited relationship with Carly enough to make him keep quiet? Also, look for Kate to remember more about her teenage rape at the hands of Joe Scully Jr.
Kristina's reality TV show continues to trample on everyone's lives. Look for Kristina's crush on producer Trey to intensify, while Trey looks to exploit the likes of Kate and Starr.
Anna confesses her relationship with Luke to Tracy.
Kristina decides to make a bold move fearing Trey's attention is waning.
Molly and TJ surprise Kristina.
Olivia tries to talk to Steve about Heather's lies but Steve refuses to believe Heather is a danger.
Todd offers Sam a new job.
Spinelli keeps digging into Heather's whereabouts the night of the storm.
Heather is livid when she finds out Sam will be working at The Sun.
Liz assures Jason her feelings are nothing more than friendship.
Michael doesn't trust Trey or Johnny's intentions when it comes to Starr.
John McBain puts Jason on notice: he's back to finish what he started.
Heather's plans for Luke begin to unravel.
Thanks to Todd, Carly starts to doubt Johnny's true intentions.
Carly offers to help Johnny with the nightclub.
Patrick and Maxie get into a heated argument.
Kate starts to remember bits and pieces of the night of the accident.
Sonny asks Kate if she wants him to find her son.
A new mobster makes his entrance and he has a history with several people in town.
Sam gets emotional after seeing a mother with her newborn getting ready to watch the fireworks.
John comforts Sam as she grieves; Jason seethes with jealousy.
Anna continues to search for Luke.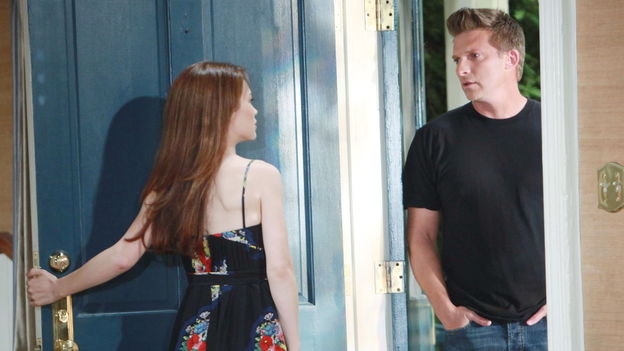 Jason and McBain are both racing towards a showdown with Joe Scully Jr. This is McBain's chance to get justice -- or just plain revenge -- for his sister. But when it comes time for the confrontation, who will have the upper hand? Meanwhile, the high emotions of the moment continue when McBain finds comfort in Sam ... and they kiss!

And Jason sees it!


Then, Jason kisses Elizabeth!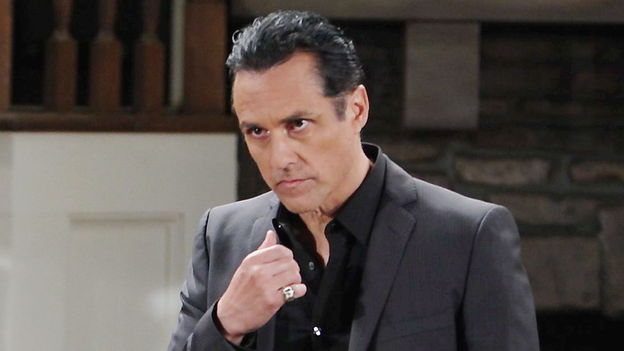 Don't expect Sonny to bow out of the Joe Jr. hunt either. Sonny needs to make him pay for raping Kate. But look for a shocking truth about Kate's baby to come to light and change everything.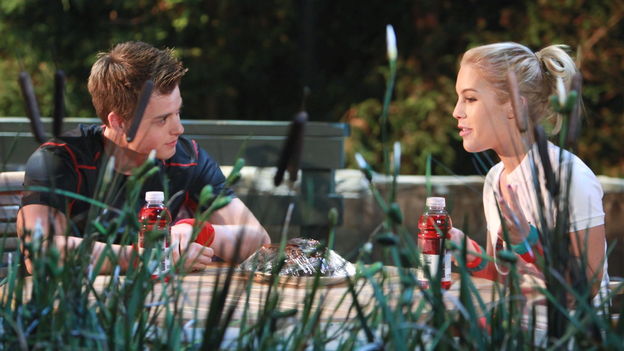 Michael and Starr are getting closer than ever, but this is finally the week they will let their emotions get the better of them. They have their first kiss!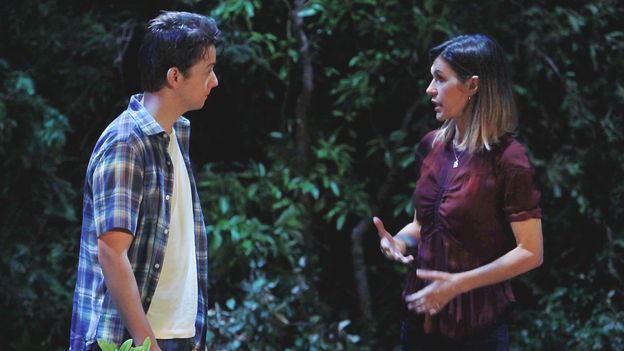 Spinelli lends Anna a hand in her search for Luke, and,
Luke will try to make a break for it himself.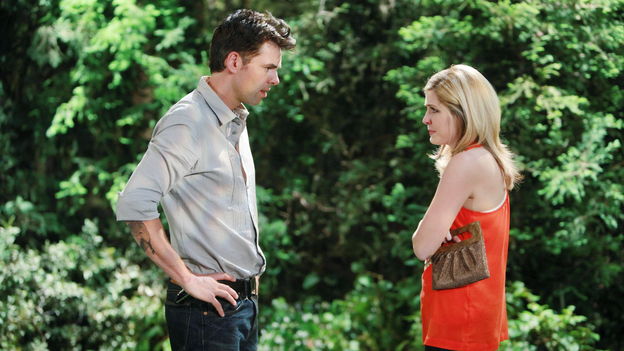 Maxie and Lulu aim to confront Patrick about his pill usage.
Sam confides in Kristina.
Sam admits she may not ever be able to get over what happened between her and Jason.
Kristina has her own reasons for getting closer to Sam.
Michael and Starr continue to deny their feelings.
Starr and Michael's lighthearted moment takes a turn when they nearly kiss and Starr ultimately makes a confession about her feelings.
Maxie conspires with Lulu after Maxie observes Patrick having a traumatic moment with Emma.
Joe denies hurting Kate/Connie but shocks Sonny by blurting something about the baby she abandoned.
McBain begins to feel partially responsible for his sister's death.
~
Stewing over his sister's death and Joe Jr's involvement in it, McBain ends up drinking and running into Sam on the docks. Sam is in an emotional state as well. Although she is still mourning her baby, she suspects there is some connection between the night her baby "died", Todd and Heather but she can't put her finger on it. She is also grieving for happier times in her marriage, especially after she runs into someone who reminds her of the time when her future with Jason seemed bright. When John and Sam encounter each other they share their woes and support each other. There is a big moment of connection between the two as fireworks explode overhead. According to headwriter
Carlivati
, this is two people who are still romantically and emotionally connected to others. But, in some way this moment has been building since the time John and Sam first met in the church.
They kiss...and it does not go unobserved. According to

Carlivati

, this kiss is witnessed in two different ways, one which will have an immediate effect and one that will be long term. That said, the headwriter emphasized in SOD that Jason and Sam fans shouldn't lose all hope.

Jason realizes he should have accepted Sam's child. He also regrets what he did to John McBain. Right now, Jason thinks its too late, that he has lost Sam, however he still loves her and wants her. Don't forget, although Sam and Jason don't know it yet, Sam's baby is not only THEIR child (not Franco's) but their baby is out there, alive. That is reason to root for the couple to find their way back. However, the McBain and Sam's kiss is going to complicate things further for Jason, Sam, John and... Elizabeth.
~
E

veryone assumes Luke's disappearance has to do with Luke not wanting to face the music as a result of his romantic entanglement with both Anna and Tracy. However, Anna starts to get worried and her detective instincts kick in. Will Heather's confrontation with Spinelli in the woods eventually lead Anna to Luke? One can only hope because Luke is completely dependent upon Heather for food and water, and Heather is dealing with having Spinelli hot on her trail. Will Luke starve to death before Heather can return or Anna can save him?
~
Starr and Michael share a close moment at the beginning of the week but Starr pulls back.
She feels conflicted, as though by moving on this soon she is turning her back on Cole and Hope. Michael is understanding and they agree to keep their relationship as just a friends (but will they be able to keep that agreement?). Michael invites Starr to spend the 4th of July with him and the Quartermaines. Headwriter
Carlivarti
hints that it could be time for Starr to try and put the pain and loss of the recent past behind her and to become a bit more open to the possibilities between her and Michael.
***IMPORTANT REMINDER GH FANS!
***

"GAA" begins airing in the 1pmCST/2pmEST slot beginning July 9th. It will run for 9 weeks until September 10th. On that date, "GAA" will go off the air and GH will move up an hour and take its place.
However, ABC will be keeping a close eye on the ratings for "GAA" during those 9 weeks. If it does well, it very possibly could return and become the show that knocks General Hospital off the ABC schedule for good at some point next year.
Therefore, it is absolutely imperative that everyone boycotts "GAA" during the next 9 weeks. Please pass this on to other boards you may visit and repeat it often.
After their first kiss, Michael and Starr are left to figure out what it all means. But after some angst, look for them to go on their first date.
With Anthony's body having turned up, Carly and Lulu comfort Johnny, not knowing he doesn't need comforting. The blame is squarely on Luke, and that's where Johnny likes it.
Anna is then forced to put an APB out for Luke ... though that doesn't stop her from bringing Johnny and Heather in for questioning.
Alexis is confronted with an ugly explanation for why she doesn't want Molly with TJ.

Week of July 9th

7/9 Jason makes a drastic move...how will Sam react?
(
Jason gives Liz an impromptu kiss.)
Todd puts a damper on Carly and Johnny's night;
he interrupts their romantic evening with an offer to buy Starr's contract
7/10 Sam is lucky that she has a sister she can confide her man problems to, but no amount of sisterly bonding can erase the shocking confession she overhears later on that same day!
Sam confides in Kristina about the kiss.
Starr informs Johnny about her relationship with Michael.
Anna hauls Heather into the police station.
Michael learns about John and Sam kissing.

7/11 Although Jason and L!z have shared a romantic relationship in the past, she truly is a friend to him. Can she, of all people, convince him not give up hope that his marriage can be saved?
Jason admits to Elizabeth he's afraid his marriage to Sam ended the night Jason Jr. died.
Lulu and Carly find out that Anthony's body has been located.
Patrick can't stop thinking about taking pills.
7/12 Sam is on the verge of discovering the truth.
Sonny makes a confession to Kate.
Lulu and Dante fight about missing work.
Steve seeks legal counsel for Heather.
Who walks in while Patrick is feeding his habit?
7/13 Todd and Heather's unlikely alliance goes a step further to try to keep their secrets under wraps.
Luke has a visitor (and it may not be human!); Luke is in a dangerous situation.
Sonny confesses to Kate the plans of his revenge for Joe Jr.
Trey is concerned when he can't get in touch with his dad.
Liz stumbles upon Jason in a bad mood and wonders what's wrong.
Jason tells Liz that he knows what he saw (meaning the kiss between McBain and Sam) and he and Sam are done! Liz takes hold of Jason's arm to tell him maybe not. Liz tries to encourage Jason to find out what's really going on. Liz wants Jason and Sam to work things out. They hug. This is when Jason turns his head and kisses her! Its not intentional on Jason or Liz's part, he's hurting and Liz is comforting him. After the kiss, there is an awkward moment; what did he just do? Liz assures him that it is no big deal, that they are just friends, and both adults. She tries to encourage him not to beat himself up over it. However, Jason feels badly, wondering how he could do this to Liz when she was just being a good friend.
Later at Kelly's, Steve gives Jason a tongue lashing after he overhears Liz trying to reassure Jason that everything is cool. Unfortunately, Sam walks into the middle of it and finds out about the kiss!
Sam confronts Jason about his kissing Liz.
Jason, in return, confronts Sam with the fact he saw her kissing John McBain.
Coming off of the momentous moment when Jason and Elizabeth -- and Sam and McBain -- kiss, events conspire to pull Sam and Jason back together. Look for Sam to be poised to discover Heather's DNA secret ... and she's not the only one.

Heather also witnessed the kiss between Sam and John. She later tells Todd that she has a trashy, scandalous, juicy, story, for him. Just perfect for his tabloid,

The Sun

. Imagine a photo of Sam and John kissing with the headline: ''PORT CHARLES MOB MOLL'S LlANVIEW LOVIN' LIPLOCK''. However, Todd, feeling guilty, rejects the idea of running the story.
Heather resorts to blackmail. (Todd, again)
into helping her evade suspicion.
Heather floors Todd with another condition for her silence.
Watch for Heather to force Todd to help her out in keeping Luke captive. That doesn't go as expected at ALL.
Todd begins to realize just how much Heather manipulated him the night of the baby switch.

Todd makes the most of the camera Heather planted in Johnny's office but doesn't like what he sees.
Alexis takes Molly to see Shawn and TJ and to have it out.
TJ makes a strong accusation about Alexis.
Carly finds herself in the middle of Johnny and Todd.
Maxie and Sam catch up at Crimson. Sam than tells Maxie that she and Jason are over. Too much has happened and choices made that cannot be forgiven.
After being confronted by Lulu and Maxie, Patrick gives them his pills and agrees to see Ewen.
Unfortunately, Lulu gets sidetracked and is not there to hold Patrick's hand the next morning when he changes his mind. He's not done self-medicating.

Anna puts out an APB on Luke since he is the chief suspect in Anthony's death.
Michael pulls back from kissing Starr, apologetic for pushing the issue.
Starr surprises Michael by admitting that she welcomed his kiss and ultimately she decides to go out on a date with Michael.
Starr admits to Johnny that she and Michael have taken their relationship to a new level.
Kristina is not happy when Michael informs her that he and Starr are dating.
Michael arrives to take Starr out on the town.
Lulu and Dante argue over her having missed her shift at work because she was at the Haunted Star with Johnny
Sam tries to get evidence against Heather, but someone interrupts her plans.
Lulu and Carly learn Anthony's body has been found
Week of July 16th


7/16 Kate faces the man who raped her.
Lulu confides in Johnny about her fight with Dante.
Luke nearly convinces Heather's minion to let him go
7/17 Joe Jr. works with Trey to destroy Sonny.
Todd loses it after learning Blair will be present for Starr's big night.
Carly helps Todd only after he makes her a promise.
7/18 Anna receives a visit from Patrick and Emma.
Heather refuses to give up on her plan
.
Lulu and Anna receive Heather's forged letters from Luke
7/19 Steve refuses to hear Olivia's story.
Starr and Michael reveal their relationship.
Dante and Anna team up to find Luke
.
7/20 Luke's attempt to rescue himself could turn deadly.
Will Anna and Dante find out where Heather is keeping him in time?
Trey prepares to question Sonny about his discovery of his father's medal.
Trey in interrupted by a call from Joe, who informs him of his arrest.
Joe brings up the baby Kate gave birth to to during their confrontation, leaving Kate unsettled.
Kate tries to convince Sonny it's time to put the bad behind them.

Joe, Jr. plans to bring Sonny down with some help.
Heather is released from police custody and calls upon an old acquaintance to do another job for her.
Patrick and Emma visit Anna.
Patrick reluctantly attends the opening of the Haunted Star and needs help coping.
Carly and Johnny enjoy a night of sex and celebration while Kate has a disturbing memory when she tries to do the same with Sonny.
Lulu tries to help Patrick who sees Robin.
Heather reveals her plans to Luke.
Olivia becomes the target of a dangerous plan.
Anna is led to believe the worst of Luke.
Johnny's actions make things tense for Lulu and Dante.
Lulu tells Johnny about her argument with Dante.
Despite Dante's wishes, Lulu doesn't want to give up working with Johnny and together they prepare for the grand re-opening of the club.
Dante arrives at the Haunted Star in time to see Johnny and Lulu in what looks like a close moment.
Heather watches Johnny and Lulu through the camera she planted in Johnny's office.
Johnny sends Lulu flowers.
As a result, Lulu and Dante share a tense morning.
It's opening night for the Haunted Star, but will it all go as planned?
Kassie DePaiva

brings Blair Cramer back to Port Charles for another visit.


Todd freaks to learn Blair's coming to town for Starr's big night and asks Carly for help.




Carly's amenable, but only after Todd makes a promise to her.




Todd is upended by Blair's arrival at a room down the hall.




Blair requests to speak to Todd alone tonight after the opening.





Todd and Blair go together to the party, as Starr's proud parents.




Starr and Michael come out as a couple to Todd, Blair, Carly, Kristina, and Trey.




Will Todd go through with his plan for Blair?





Week of July 23rd
A fire puts several lives in danger.

Someone is shot.
Anna gets life-changing news.
Dire circumstances bring Lulu and Dante closer.
Anna confronts Heather.
Can Ewen rekindle his relationship with Liz?
Johnny uses his insurance policy to keep his secret safe.
Anna is determined to get answers.
Carly and Spinelli try to get Sam and Jason to work things out.

(And This and That...In no particular order...)


DID YOU KNOW?...
Live Recaps as the show airs are now available on our Homepage?
As posted here earlier, when McBain returns to town, he will tell Anna he can stay as long as needed, his personal status has changed.
Will Michael try to revive L&B just to keep Starr away from Johnny Z?
Michael and Starr make to known to all that they are a couple.
Spinelli makes Maxie cry when he behaves as though he doesn't like her any more.
Dante sees Johnny and Lulu in what he thinks is an intimate moment.
Luke is still missing. Lulu begins to suspect that Heather is involved.

Anna gets the letters Heather forged.
Anna gets shocking news.
Steve tells Olivia to shut up about Heather.
Olivia is in danger.
Ewen is into Elizabeth and wants to get closer.
Joe Jr. is determined to bring Sonny down.
Kate has a disturbing flashback when she tries to be intimate with Sonny.
Blair is coming to Port Chuck and Todd is nervous.
Patrick pops pills during the grand reopening of the Haunted Star.

Patrick thinks he saw Robin.

Sonny's busted with Joe by the cameras and McBain, but Joe's story isn't over yet!
Could this lead to a truce between McBain and Sonny?

Luke is suffering from dehydration and a head injury. Will he die?

Todd tells Starr that he will buy out her recording contract.

Kate confronts Joe Jr.





Todd panics when he learns that Blair is coming to town.





Lulu plans the grand re-opening for the Haunted Star.



Look for another character to be killed off.
Sam is suspicious of Heather and her connection to Todd, and investigates.
(Do Spin and Sam catch a whiff of blackmail in the air?)
Will Luke serve as Heather's confessor? He may have no choice but to keep her confidence.
Connie is still holding on to a secret.
Delores gets entangled in Johnny's mess.
Lulu notices Johnny's erratic behavior.
Dante's suspicion of Johnny grows.
Carly could end up in serious danger.
Kristina takes an intense disliking to Starr, especially when

Trey

takes a liking to Starr!

Michael and Johnny smooth things over, with Carly's help.

Both Olivia and Liz will be sounding the same alarm to Steve.

Johnny tells Kate not to look to him from help regarding her Connie issues because he
has a conflict of interest--Carly.
Todd warns Carly not to be too trusting of Johnny (the same advice to his daughter falls on deaf ears). Will they both come to regret not taking his advice to heart?
Steve worries that Liz is falling for Jason again.
Sam and McBain watch the fireworks together from the waterfront.
Fantasy Island? Well...minus the island but heavy on the fantasy.
When Joe, Jr., (
Richard Steinmetz
) appears in Port Charles, John McBain will want to go after him, but through legal channels. Sonny just wants Joe dead. McBain will want Sonny and Jason to stay out to his way. Interestingly, it will
appear
that Joe, Jr. has turned his life around and is now living a
legitimate
life as a business man.
Heather's actions end up bringing a brother and sister closer (Liz and Steve W)
.
Although Maxie will be leaning on Patrick for a period of time (not romantically),
she still has feelings for Spinelli that she is just not ready to acknowledge.
Sam's baby story plays at least into the early fall.
September is expected to be a happening month on GH.
One man has had a major impact on three very different lives.

Look for Llanview to become a more prominent part of GH this fall.

Robin Scorpio will pop up briefly a bit later this summer (July)...but will any of her friends and family actually see her (discover she is alive)?...Perhaps not

this t

ime...BUT!...down the road... However, we will see the nurse (Mary Pat Green) caring for Robin again in July too.

As time goes on, some of Robin's family/friends may start to come thisclose to stumbling up on the truth, quite literally. This story will take time to unravel.

Ewen becomes a thorn in Johnny's side.

Someone is using Kristina as a pawn via her reality show in order to get to Sonny.
At Starr's debut at the Haunted Star, Blair announces to Todd that is marrying Tomas!
(Its an attempt to make him jealous.)
Todd informs Blair he could care less, and pretends that he is dating Carly.
Todd pulls Carly aside (who is really there as Johnny's date) and asks her to play along.
Carly and Todd stage a kiss for Blair's benefit.

Starr has mixed feelings about moving forward with her life.
Kristina witnesses a surprising moment of intimacy.
Look for an "animated" interaction between Carly and Blair on an important evening.
The opening night of the new and improved

Haunted Star

will be lively...to say the least.
Ewen is curious about the status of Liz's friendship with Jason.
Maxie and Patrick are there for each other in the aftermath of Matt's departure.
Anna spends time with Emma... who's watching?
Todd will rue the day he met Heather Webber.
Will Kate develop another alter? Says

Carlivati

in SID,

"There's always that possibility with DID. But right now Connie is wreaking so much havoc, we're really focused on that and how its going to continue to roll out."




Kelly Sullivan

, shared in a recent interview regarding Kate (and her relationship with Sonny),
"There's a couple of secrets that I know about that will be coming up in the next couple of months... some really great scenes with Kate and Ewen

[soon]

, which is going to open up a whole can of worms that they're taking in an interesting way. There's a couple of secrets that are going to be really, very good."

Sullivian

also mentioned that she recently worked with

F

inola Hughes

(Anna Devane) for the first time.

Sonny encounters a walking zombie?...not quite, but close enough.

Kate and Sonny want to give it another go.
Kate is far from well, despite appearances.


Tracy is the keeper of a long kept secret.

Luke is conflicted.

Liz continues to be supportive of Jason.

Lulu and Kristina share a secret.

What is hidden in Kristina's closet?

Olivia pursues her suspicions regarding Heather.

John McBain hears something that makes him suspicious and follows his hunch.

John makes a difficult decision.

Expect a visit to "Llanview".

Sam makes a poor choice of out of town confidants.

Blair is disbelieving of Todd...and jealous.

Todd must deal with his conscience.

Todd makes a confession.

Who sends Heather an unnerving message?

Spin can't help but pick up on some curious vibes concerning Todd when it comes to Sam.
Kassie DePaiva
will be making a return appearance on General Hospital this summer!
The search begins!
Anna Devane may ask John McBain to stick around and help her clean up Port Charles.
How will that affect his relationship with Natalie and his son?
A baby goes "missing"! But who will realize it?
Starr will have two young men vying for her attention later this summer; one of them will be new to the canvas (not sure how long term he will be).
(Much Further down the road...) We will learn that Robin has never left Port Charles...
and that she is not alone among the undead.
Carlivati
had originally planned to bring Robin back soon and have Robin and Patrick be reunited (before word came of GH's extension) as part of the show's ending.
He mentioned in the most recent SID about Robin being really alive and that he'll develop that story over time.
"Its just a question of when can we do it? As we know, Kimberly is exploring some other stuff in her life right now, which I think is wonderful for her. If and when Kimberly is available to come back, that is really when we will tell this story in full force!"
For now, Patrick will continue to believe that Robin is dead.
"We'll be watching him go on a journey, with the audience knowing that at the end of it somewhere is Robin."
Ripples of Franco.
Complex sibling relationships.
The birth of Sam's baby is just the beginning.
Alexis' past plays into the future.
Also, how far will Alexis go to defend Sonny?
What about Dante? Sam?
Alexis will have her hands full with all three of her daughters.

With
Téa's arrival, one can't hope wonder if Victor Lord will be next.

Carlivati

hedges,
"We are not bringing him on this minute...Tea's arrival reminds us that he is still out there. It would change everything in the dynamic between Starr, Todd and
Tea' if he were to return."

As for

Trevor St. John

who played Victor on OLTL, he tells SID that he misses his former co-stars, but he doesn't miss his job anymore. Whether he would change his mind if directly asked to return, remains to be seen.
While there is still hope that the Nurse's Ball may return at some point down the road, don't expect to see it this June. Says

Carlivati

in SID,

"When the moment is right, we will definitely re-visit it. I can't sign it in blood on the dotted line, but I would love to do it again."
Lulu doesn't like Dante using the word "forbid".
According to
Ron Carlivati
in SOD, for the time being, Felicia's return is open ended. Apparently his team is working on scripts for June, he winks , "
I can tell you that I am still writing her."

It is not out of the realm of possibility that Frisco might yet show up but the logistics of that have not yet been worked out.
Someone else is working with Heather, which will be revealed down the road.

Editors note: The question fans should naturally keep in mind, especially with Heather in town is- can the paternity results that Sam shares with Jason be trusted? Food for thought: Do you remember Alan Q's will? The one that Tracy and Luke played hanky-panky with? Before they fooled with it, the will originally left his ELQ shares to Jason's biological children, should he ever have any. The last time Heather was in town, she was all up on the newly widowed Edward Q., hoping to marry into his wealth... And long, long, before that, she had her eyes on the Quartermaine's money and attempted to get custody of her murdered cousin Susan's child, Jason, and gain control of his trust fund! One thing to keep in mind when it comes to Heather, the more things change, the more they stay the same (and trickery and blackmail are among her games).
Three things have always motivated Heather Webber: Greed, Obsessive Love, and Revenge. (Mix in a heaping dose of Insanity for good measure).
Without revealing any details of what is coming up for her character,
Rebecca Herbst
in SID shares that she is,
"looking more forward now to where [Elizabeth] is going than I have been in a while."
Headwriter

Ron Carlivati

confirmed via twitter that the bodies of Cole and Hope were not recovered

.
McBain offers to dig into Heather's past accomplices.
I found this a tad confusing because it contradicts what we have been told from several reliable sources. In an SOD item that focused on
Kin Shriner
, a GH source said that while they would love to have him back at some point, there is no plan to do so at this time.
Not sure whats going on with that but I guess it means we won't be seeing Scott Baldwin in the near future after all.
Is it just me, or does the name "Polar Solar" remind anyone else of the "Ice Princess" Quartermaine/Cassadine story ;-) ?
***
***Posted spoilers are not archived; they are removed as they occur or are no longer relevant.***




Privacy Policy

Not associated with ABC or Walt Disney